Two roads diverged in a yellow wood,
And sorry I could not travel both
And be one traveler long I stood
And looked down one as far as I could
To where it bent in the undergrowth…
I shall be telling this with a sigh
Somewhere ages and ages hence:
Two roads diverged in a wood, and I—
I took the road less traveled by,
And that has made all the difference.
From The Road Not Taken, by Robert Frost
In 2021, I visited the South Rim of the Grand Canyon with two of my daughters. The Grand Canyon is a breathtaking work of God, at 278 miles long, an average width rim to rim of 10 miles, and an average depth of 1 mile. The Canyon's tenants includes 450 species of birds, 91 species of mammals, and 58 species of reptiles and amphibians. The California Condor, javleinas, elk, desert tortoise, and of course, rattlesnakes, call the Grand Canyon home.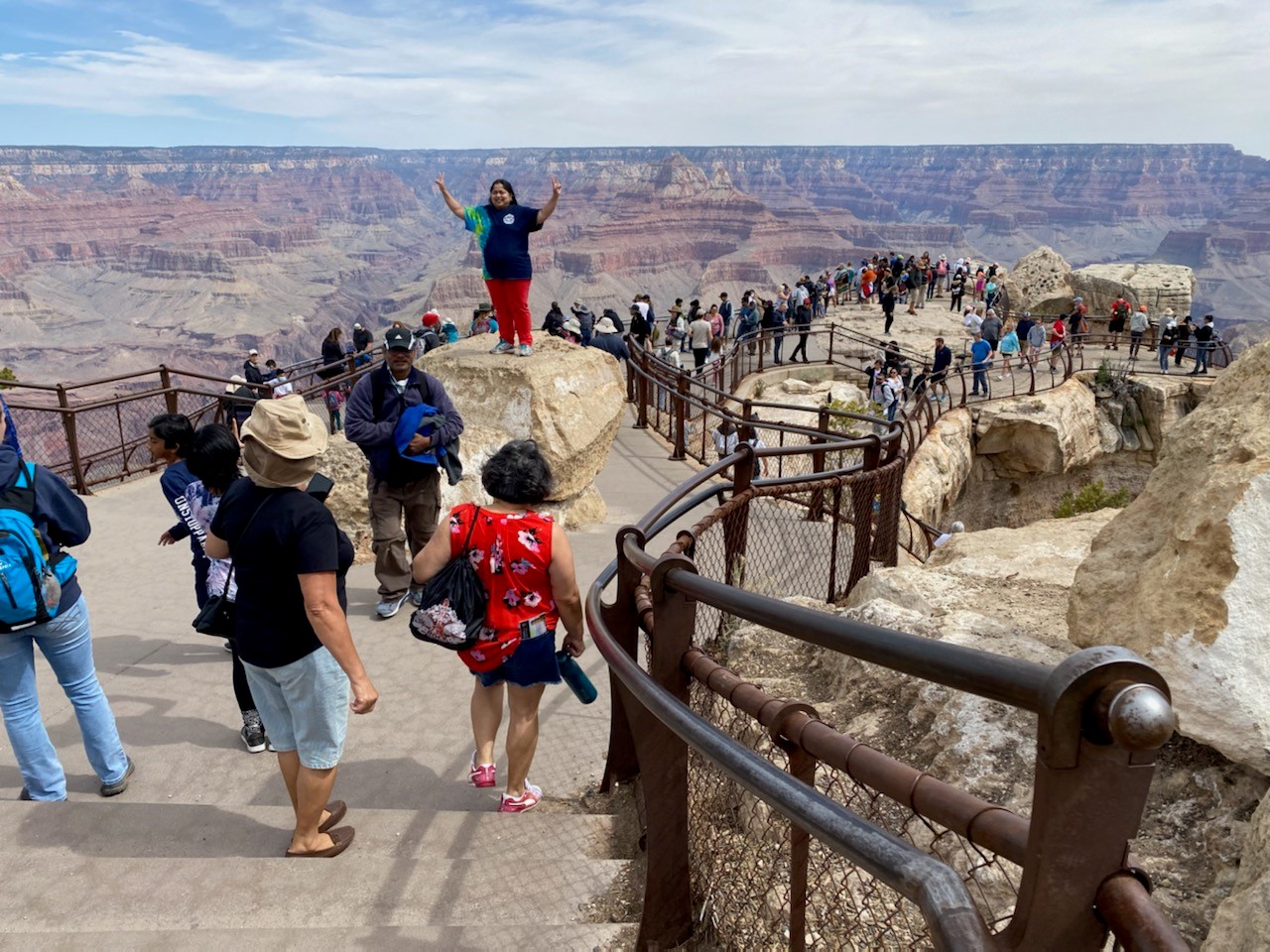 As we took in the scenery with the crowd, I noticed a ledge protruding from the rim, around 100 yards to our left. There were a handful of people hanging out on the ledge. Of course, you know where we had to go.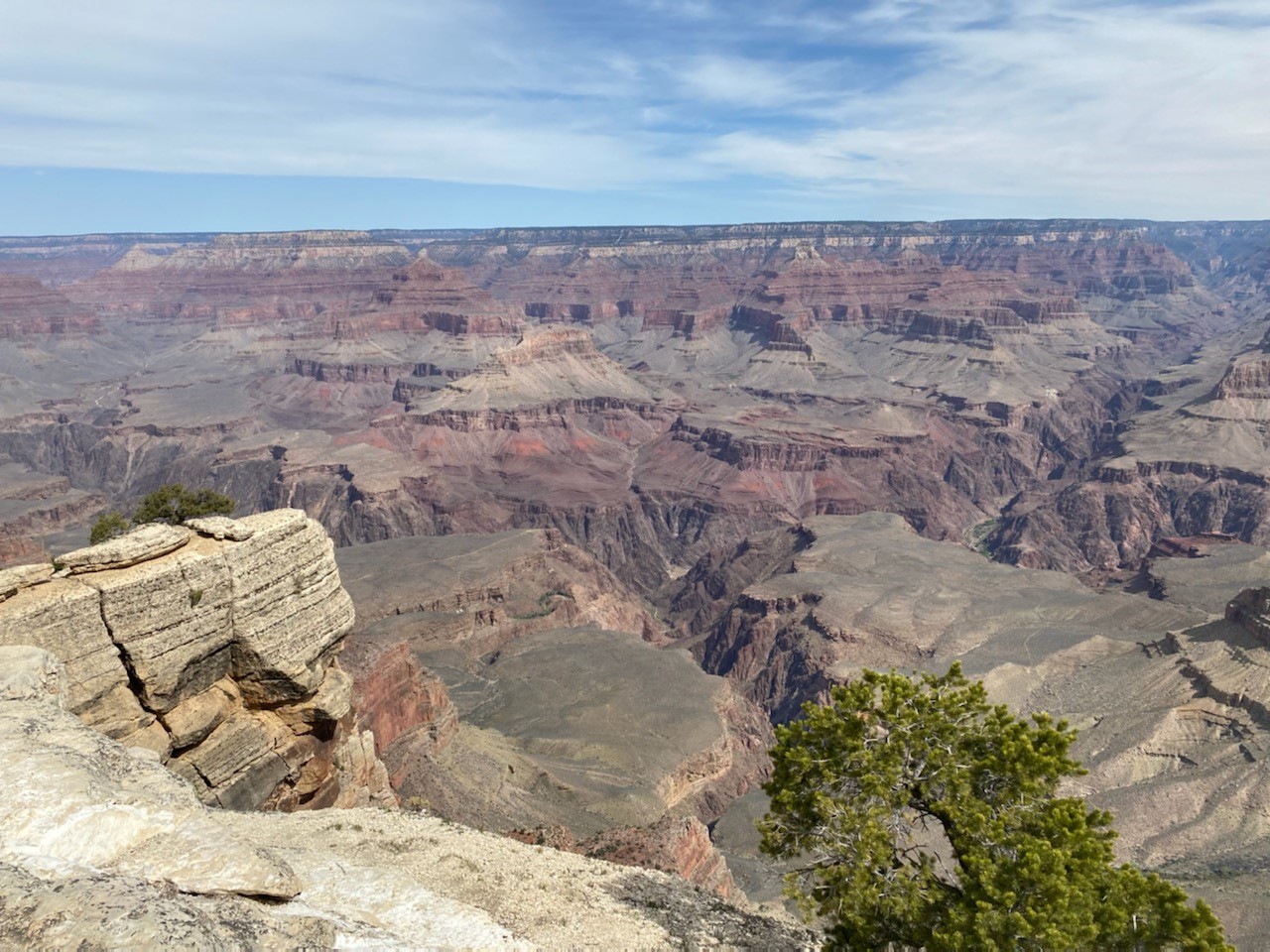 The ledge had no guiderails, paved walkways, or warning signs. You go at your own peril. We carefully descended down to the ledge along a gravel path. One slip to the right would mean the possibility of a long fall.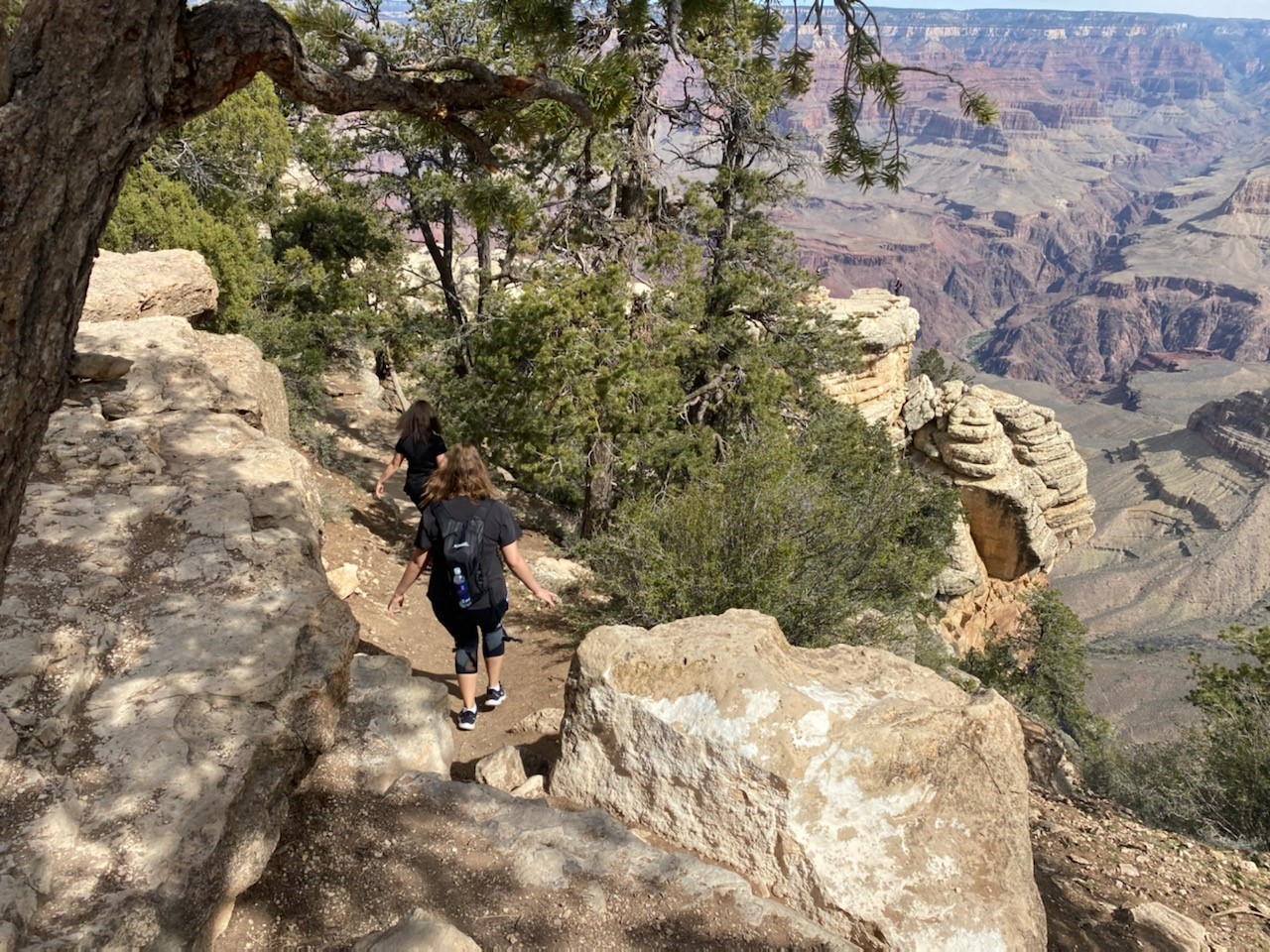 Then we made our way out to the ledge.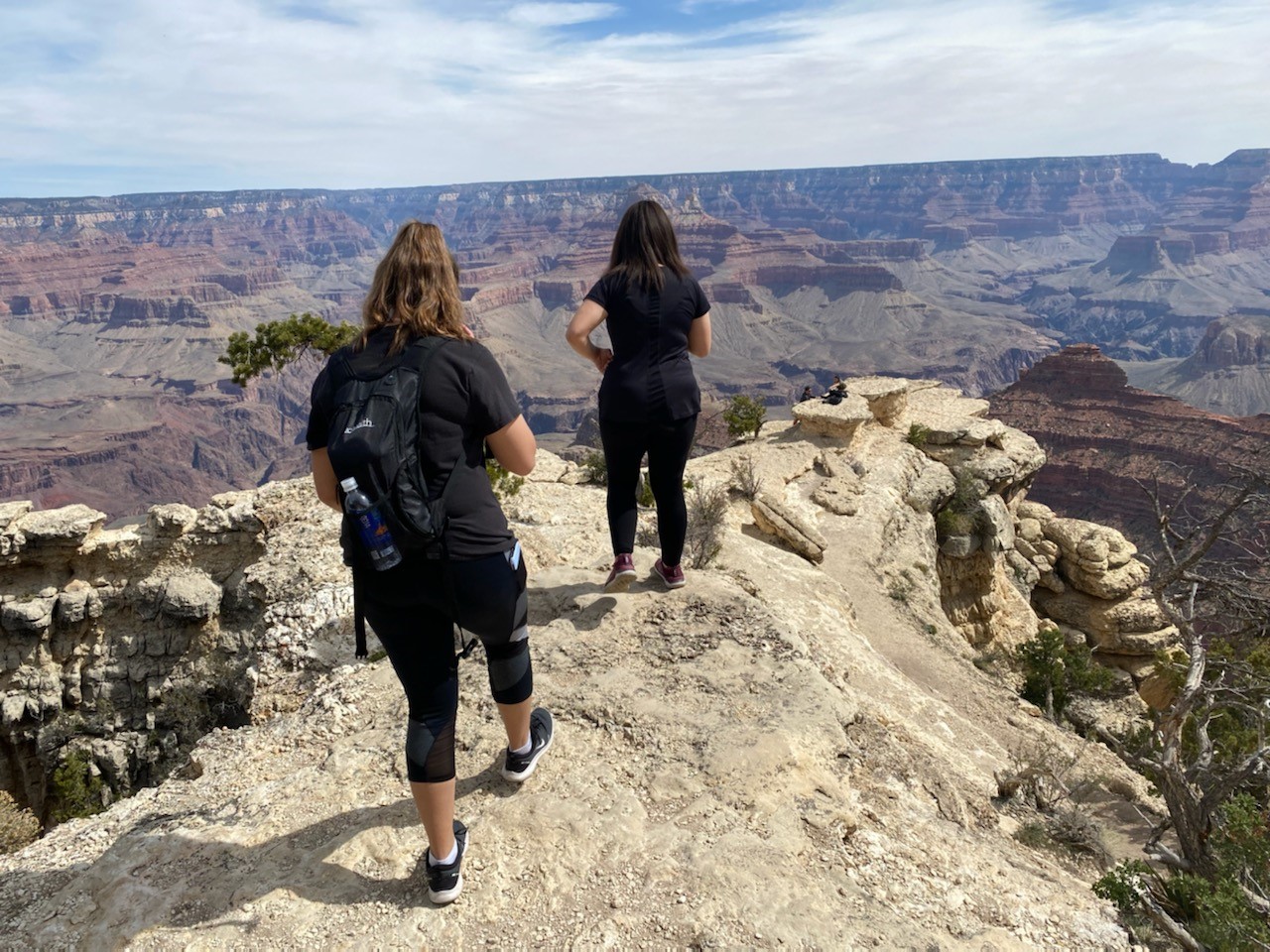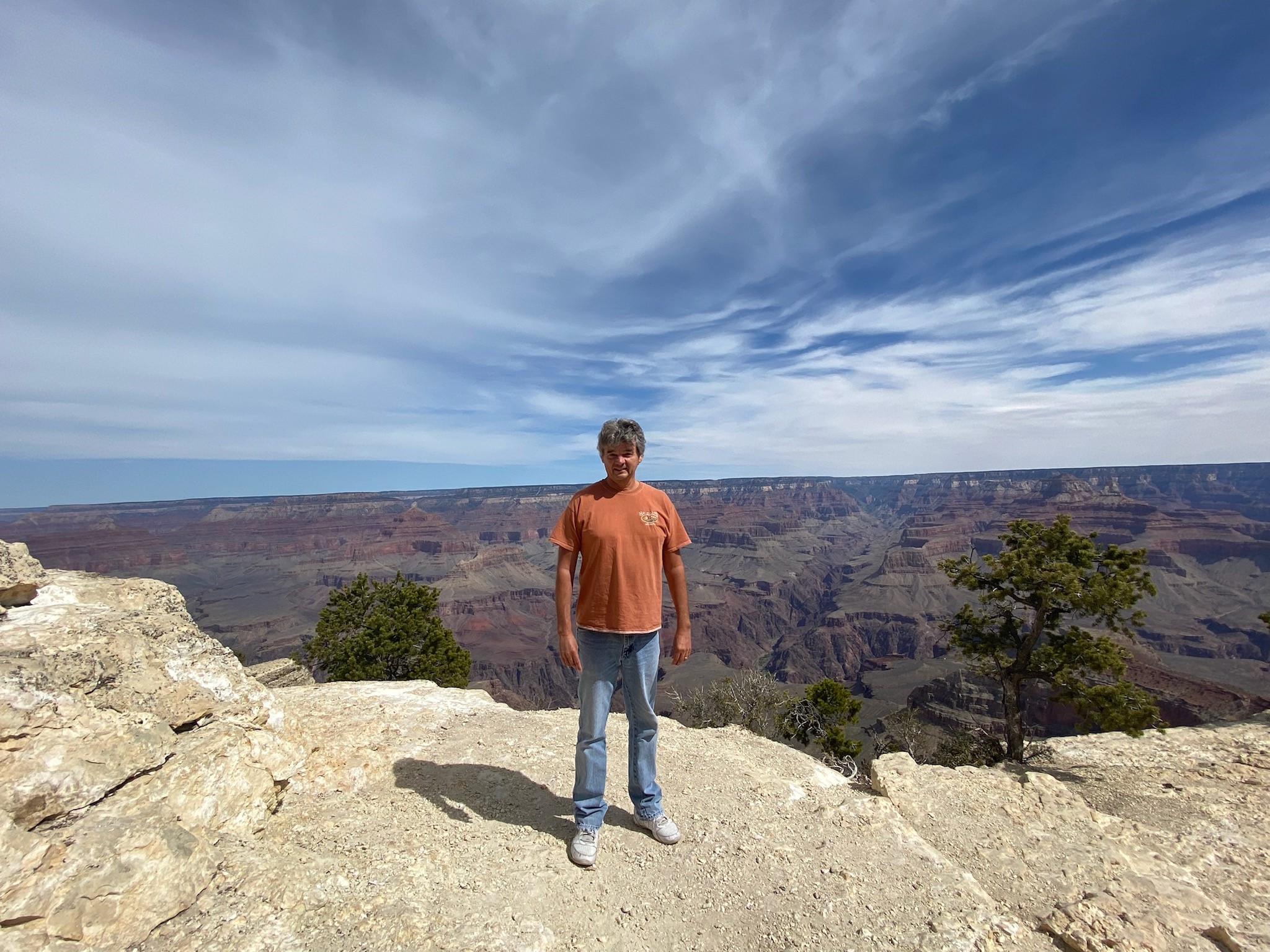 Without guiderails or a crowd to navigate through, the view was stunning, even more so than the "safe space" where the crowd was. There was an element of risk and danger as we were walking near the edge of a cliff with a sheer drop, but that made the experience even more enjoyable.
Later, it hit me that I'd witnessed a visual allegory of the church. On one side you have the safe space where the crowds hang out. The Guiderails of cultural Christianity and the Church of Nice claim to offer protection from getting too close to a risk-taking adventure, with signs marked with "Be safe," "Be nice," "Be good," "Don't get too close to the edge," "Retire; you deserve it," and "God has a wonderful plan for your life." (Note: being good isn't the same as being holy). There are video screens everywhere to engage the faithful, not unlike a parent who sits their child in front of a TV to pacify them. Everyone is smiling, no one has problems, struggles, with doubt, fear, lust, bitterness or (horrors) pornography. All messages are positive, encouraging, uplifting, safe. Comfort is king. Books such as 10 Steps on How to Live the Christian Life are readily available.
The road rarely taken is wild, dangerous, filled with risk, comes at a high personal cost, and demands a different mindset to traverse and overcome.
1. There are no guiderails.
For we walk by faith, not by sight.
2 Corinthians 5:7
Navigation of the untamed wilds requires learning to walk with God, hear and know His voice, and trust Him, even when He asks us to take an action step that scares us to death. Recently, a guy asked me what my plans for Blazing Grace were. "I don't make long terms plans for the ministry," I replied. "I try to walk with God, listen for His direction and counsel, and be faithful to what He's already given us." Dead silence. God rarely if ever gives us His plan, but He does provide the next step. We've been having growth spurts for years; He brings us hurting men and women from all over the globe. This doesn't mean we don't value being organized or having structure, but that God is our leader and we strive to follow Him. Doing it this way is risky at times; but the rewards are wonderful. It is the comfort zone that keeps people from growth, breakthroughs, and victory.
2. You must be prepared to suffer.
Since therefore Christ suffered in the flesh, arm yourselves with the same way of thinking, for whoever has suffered in the flesh has ceased from sin, so as to live for the rest of the time in the flesh no longer for human passions but for the will of God.
1 Peter 4:1-2
Consider it all joy, my brothers and sisters, when you encounter various trials, knowing that the testing of your faith produces endurance. And let endurance have its perfect result, so that you may be perfect and complete, lacking in nothing.
James 1:2-4
There is no such thing as a safe life. Rather than openly discuss the pain and suffering many are going through and equipping people for it, many churches avoid these topics which gives the illusion, or lie, that the Christian life is safe, easy, and comfortable. Suicide is growing. Mass shootings are daily occurrences in the US, even in churches. Lives are destroyed every day from sexual sin. 1.1 million died from Covid in the US. Rather than equip people for the tough times we live in, we've softened their hearts into lukewarm mush. All you have to do is look at how the church came apart when Covid hit to see the devastating impact of attempting to make the church a safe space where no one hears anything that would challenge and equip them, with devastating consequences.
As for what was sown on rocky ground, this is the one who hears the word and immediately receives it with joy, yet he has no root in himself, but endures for a while, and when tribulation or persecution arises on account of the word, immediately he falls away.
Matthew 13:20-21
When Paul began his earthly ministry, God didn't say, "I have a wonderful plan for your life." Instead he said the following through Ananias—But the Lord said to him, "Go, for he (Paul) is a chosen instrument of mine to carry my name before the Gentiles and kings and the children of Israel. For I will show him how much he must suffer for the sake of my name."
Acts 9:15-16
11 out of the 12 apostles were killed. Historians tell us that the remaining apostle, John, was dipped in a bath of hot oil, survived, then was exiled to the island of Patmos. My friends, your outlook on suffering is critical to your Christian walk; trials come with risk and danger. Some harden their heart into bitterness, others wall up, and some even walk away from the faith. The enemy whispers "How could a good God allow this?" If you start buying into the lie that God is cruel, the battle for your soul intensifies. From personal experience I know that God redeems every drop of suffering. The question is, who you will listen to, and how you will respond when trials hit?
3. The road less taken demands much time alone with God in silence.
But Jesus Himself would often slip away to the wilderness and pray.
Luke 5:16
Jesus went away to desolate places alone often to pray, and He is God. We're broken people with sin-prone flesh and need it far more than Jesus did, yet how many can say they've recently spent several hours alone with God in prayer? While everyone else is watching TV, you'll be on your knees in Heaven-rending prayer.
Because you will be a prayer warrior, there will be:
4. Ongoing spiritual warfare.
Satan is quite happy to keep everyone focused on having as much entertainment as they can get in this life. Prayer warriors are a threat to the gates of hell and those he has in bondage, thus, there will be spiritual fire-fights. This is why preparing you to suffer and set your forehead like flint for the battles ahead is so critical. If you want to walk close to God, develop a powerful prayer life, and make your life count for eternity, there will be warfare, discouragement, and pain along the way.  I would far rather live a life of ongoing warfare and know I was making an impact than rot away in comfort and pleasure.
Like emery harder than flint I have made your forehead. Do not be afraid of them or be dismayed before them, though they are a rebellious house.
Ezekiel 3:9
5. You cannot walk alone.
Jesus sent the apostles out in pairs. Throughout the gospels we see missionary teams being deployed. Yet, 80-90% of modern Christians are isolated, making them easy targets for a fall when attacks and trials come. You must be a part of a tribe; it's an essential, non-negotiable part of the Christian life. This is why, when I speak in churches, I have everyone break up into small groups and pray with each other. The church we see in the book of Acts was a connected community that met often for prayer; we don't see performance-driven church services where the flock sits and watches a show.
6. Those who have been radically changed by the love of God are eager to give back by investing their time, talents, and treasure in the things that count for eternity. Pastors have told me that 20% of their flock account for 100% of their tithes. Your checkbook and what you invest your time in tells the story of your heart, far more than your words. There are many who will step into eternity and realize, to their sorrow, that they wasted much of their life.
Do not lay up for yourselves treasures on earth, where moth and rust destroy and where thieves break in and steal, but lay up for yourselves treasures in heaven, where neither moth nor rust destroys and where thieves do not break in and steal. For where your treasure is, there your heart will be also.
Matthew 6:19-21
And let our people learn to devote themselves to good works, so as to help cases of urgent need, and not be unfruitful.
Titus 3:14
7. Endurance and perseverance are required.
There will be days when the best you can do is take several steps before dropping with exhaustion. Then Jesus comes, encourages you to keep going, and gives you His supernatural strength. Never give up and keep pressing forward.
Blessed is the man who remains steadfast under trial, for when he has stood the test he will receive the crown of life, which God has promised to those who love him.
James 1:12
8. The views on the Road Not Taken are wonderful!
There's nothing like pressing through an intense battle and being a part of God's break-through or victory and seeing healed and changed hearts. Or spending several hours in prayer with Him and encountering His presence in a powerful way. A life lived well is one lived on the risk-filled adventure of the narrow road. You may have a few scars and make some mistakes, but the end result is worth it.
Enter by the narrow gate. For the gate is wide and the way is easy that leads to destruction, and those who enter by it are many.  For the gate is narrow and the way is hard that leads to life, and those who find it are few.
Matthew 7:13-14
Want to know more about walking the road less taken?
See my book The Way of the Rogue, Living a Life that Counts for Eternity.