Meet with Mike Genung & the Community of Rogue Christians
This year many of you have responded to the call to go beyond today's status-quo Christianity and go Rogue. Now we have an event to offer you where you can be equipped and meet other like-minded believers who want to make their lives count for eternity.
About The Rogue Christian Conference
We're holding a Rogue Christian Conference February 20, 2021 in Jamesport MO. The Conference will start at 9:30am and last until 3:30pm.
Our time together will include:
Restoring your first love
Healing the wounds of the heart
Equipping you to be a spiritual warrior
Meeting other Rogue Christians
Praying together
…And more.
I encourage you to come and be a part of our nationwide community of Rogue believers. At the end we'll finish our time praying for the church and our country, which is in desperate need of revival. I expect that our prayer time alone will be powerful; as I know from experience, when you get a group of committed believers storming the throne of grace anything can happen.
Travel for the Conference
If you google Jamesport you'll see the city is centrally located in the US, which makes it a perfect location for those travelling from different points of the country.
Attendees would fly into Kansas City International; airfares are still low so you may be able to keep your travel expenses down. We're not charging a registration fee to help with this (an offering will be taken).
Please let us know you're coming by email or calling the office so we know how many to anticipate.
Meet The Rogue Christian Staff
I will be at the conference along with Sandy England, so you will have a chance to meet her too.
The conference will be held at:
Faith View Ministries
20524 314th St
Jamesport, MO 64648
---
Please consider using this banner to promote the event in your social media pages: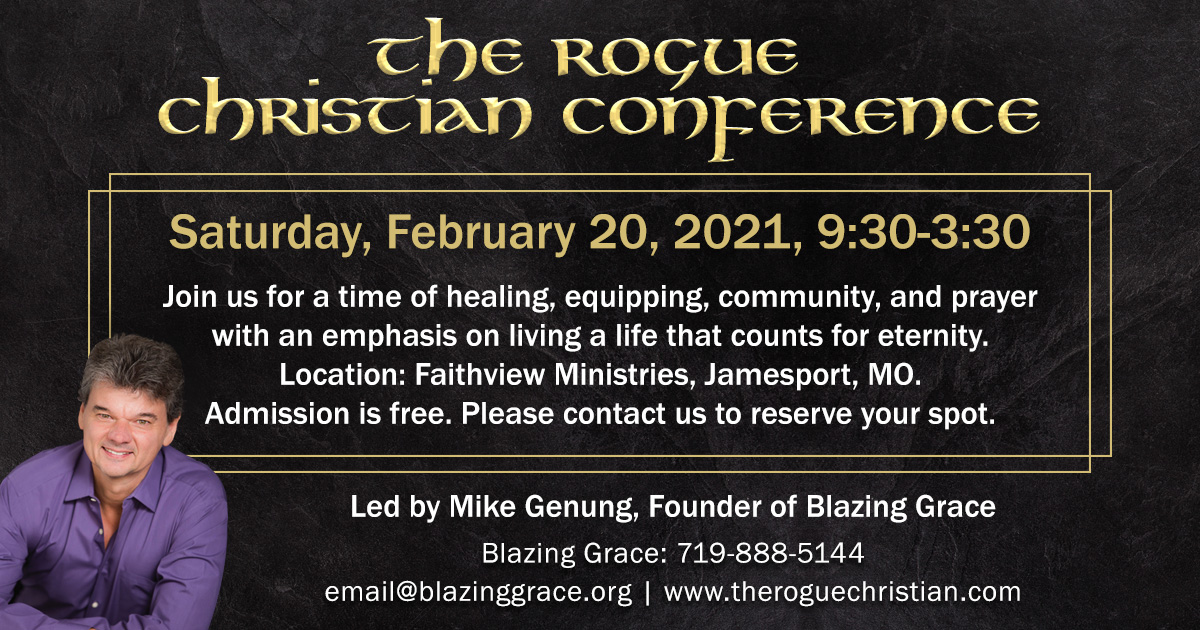 If you'd like to host a Rogue Conference in your state or country, please email me so we can start the conversation and make it happen. I'm available for speaking engagements upon request.
Click the image at the top, or go here to watch the video:
https://www.youtube.com/watch?v=CbS6NHKVyPI