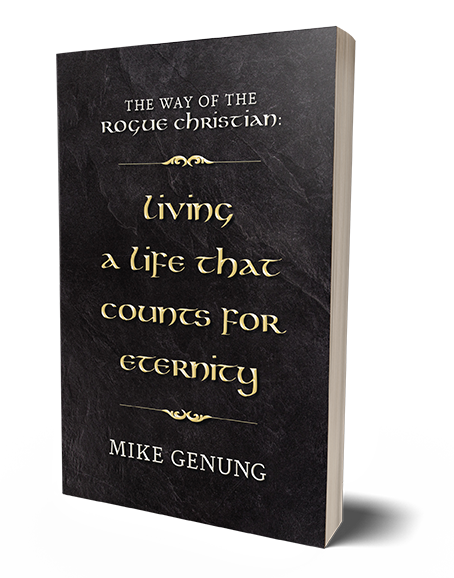 Price for paperback, shipped in the U.S.: $12.95
The above price includes free media mail shipping in the continental U.S.
Paperback specs:
Dimensions: 8-1/2 x 5-1/2 x .615
Net Weight: 12.2 ounces
Paperback: 240
Publisher: Blazing Grace Publishing
ISBN: 978-1-7323128-5-2
Printed in USA
Also available as an eBook.
Wholesale discounts available volume purchases contact us for more info.
---
The Way of the Rogue Christian: Living a Life that Counts for Eternity
"Satan's greatest success is in making people think they have plenty of time before they die to consider their eternal welfare."
– John Owen
"If you read history you will find that the Christians who did most for the present world were precisely those who thought most of the next."
– CS Lewis
"We are so easily entangled in earthly affairs and so easily consumed with the desire for those things that do not last. We will not live on this earth forever, so even our trials should be viewed in the light of eternity."
– Theodore Epp
"Remember always your end, and that lost time does not return."
– Thomas A Kempis
"I love to live on the brink of eternity."
– David Brainerd
The moment you die, all that will matter will be if you knew Jesus Christ as your Lord and Savior and how you invested the time and resources you were given on earth.
Matthew 25:14-30 gives us the parable of the talents, where three men were given money to invest by their master, who represents God. A talent was 75 pounds of gold coins and illustrates the time and resources we're given on earth. One man was given five talents of gold (375 pounds, 10.8 million dollars in today's currency), the second was given two talents (150 pounds, worth 4.3 million dollars) and the third was given one talent, 75 pounds—2.1 million dollars' worth. The first two men doubled what they were given and heard God say, "Well done, good and faithful servant. You have been faithful over a little; I will set you over much. Enter into the joy of your master."
The man who had been given one talent addressed the Lord as "Master", which indicated he knew who God was, but his actions revealed that he neither knew nor loved God. He took the time to dig a hole wide and deep enough to bury 75 pounds of gold. He hefted it into the hole, then dug it back up when he returned it to God. It would have taken him far less time and effort to cart it off to the bank and deposit it; the interest on 2.1 million dollars would have been significant over the years. God's reply was terrifying: "…cast the worthless servant into the outer darkness. In that place there will be weeping and gnashing of teeth" (Matthew 25:30)
The Bible tells us to invest the treasures of our time and resources in the eternal (Matthew 6:20-21), that faith without works is dead (James 2:14-26), to set our minds on the eternal (Colossians 3:2) and to persevere in good works.
"He will render to each one according to his works: to those who by patience in well-doing seek for glory and honor and immortality, he will give eternal life; but for those who are self-seeking and do not obey the truth, but obey unrighteousness, there will be wrath and fury."
– Romans 2:6-7
"And let us not grow weary of doing good, for in due season we will reap, if we do not give up."
– Galatians 6:9
How we spend out time and resources is a big deal to God. The fruit from our lives reveals our heart for God; the believer who understands they've been given an enormous treasure-trove of blessings will be so filled with love that they'll be eager to make their life count for eternity. Every believer goes through seasons of testing, pruning, and pain where there are days it's hard just to survive and we're momentarily barren, but God uses our suffering to produce more fruit:
"I am the true vine, and my Father is the vinedresser. Every branch in me that does not bear fruit he takes away, and every branch that does bear fruit he prunes, that it may bear more fruit. Already you are clean because of the word that I have spoken to you. Abide in me, and I in you. As the branch cannot bear fruit by itself, unless it abides in the vine, neither can you, unless you abide in me. I am the vine; you are the branches. Whoever abides in me and I in him, he it is that bears much fruit, for apart from me you can do nothing. If anyone does not abide in me he is thrown away like a branch and withers; and the branches are gathered, thrown into the fire, and burned. If you abide in me, and my words abide in you, ask whatever you wish, and it will be done for you. By this my Father is glorified, that you bear much fruit and so prove to be my disciples."
John 15:1-8
Today, many professing Christians are wasting their lives on pleasure and comfort. Some know God's word but don't do what it says; they've spent years in Bible study and attended church but have little to show for it. James calls these believers self-deceived.
"But be doers of the word, and not hearers only, deceiving yourselves. For if anyone is a hearer of the word and not a doer, he is like a man who looks intently at his natural face in a mirror. For he looks at himself and goes away and at once forgets what he was like. But the one who looks into the perfect law, the law of liberty, and perseveres, being no hearer who forgets but a doer who acts, he will be blessed in his doing."
James 1:22-25
One pastor told me he feels like he's wasting his time because many in his flock don't put into practice what he challenges them with. Some believers are so busy they're a step away from burnout. Many Christians are in bondage to sin. Our comfort-driven, modern churches have failed to challenge and equip us to live our lives with eternal impact. We hear that "God loves you and has a wonderful plan for your life" all the time, but "the narrow road"? (Matthew 7:13-14). How many even know there is a road? Where is the sense of urgency? We don't know how many grains of sand we have left in the hourglass of our life. It's important we understand it's critical we invest our lives in that which is the eternally significant; we will give an account of how we invested our lives to God.
"For we must all appear before the judgment seat of Christ, so that each one may receive what is due for what he has done in the body, whether good or evil."
– 2 Corinthians 5:10
If you were to step into eternity today, are you ready? Could you stand before God without shame, knowing that you made your life count for eternity with the gifts and time you were given? I'm not talking works-based salvation here, but the measure of the fruit of your life that proves if you had a love-relationship with God. Are you living your life with eternal impact today? If you're big into doctrine and Bible study, do you have a fervent prayer life and are you pouring into others in some way? Or is all that knowledge rotting in your soul from lack of use?
Everyone has different giftings and callings; don't compare your life to others. A mother of children can have an enormous impact on future generations. The question isn't what we did as much but whether we made good use of what we were given, whether it was one, two, or five talents.
The Way of the Rogue Christian; Living a Life that Counts for Eternity walks you through the narrow gate and into the adventure of living a life with spiritual impact. The journey begins with unrolling the scroll of The Rogue's Creed; seven Biblical pillars to build your life on that includes encouraging you to cultivate a love-relationship with the Lord. The book takes you deeper into the adventure of the Christian life, brings clarity on what to focus on, and will equip and challenge you. The stories of others who have made their lives count for eternity provide a mosaic to follow and learn from.
The Way of the Rogue isn't about giving you a task list and telling you to get busy for the Lord. Aligning your will and steps to God's is critical. Those who don't love God from the core of their soul will eventually burn out, check out, or transform into a modern pharisee.
The life of a Rogue Christian is challenging, exhilarating, and awe-inspiring; there will be battles and mistakes, but the outcome is worth it. Walking with God is an adventure like no other, with unexpected blessings along the way.
Your life will be over in a short period of time. Don't waste it.
Table of Contents
Chapter 1: The Narrow Gate
Chapter 2: The Rogue's Creed
Chapter 3: Rest of Soul
Chapter 4: Divine Discontent
Chapter 5: Rogue Theology
Chapter 6: Rogue Worship
Chapter 7: The Great Cover-Up
Chapter 8: The Quest for Holiness
Chapter 9: The Cottage of Prayer
Chapter 10: The Way of the Assyrian
Chapter 11: Warnings
Chapter 12: Are You Willing to Pay the Price?
Chapter 13: All This, and Rewards Too?
Chapter 14: Rogue Revival
Chapter 15: Onward