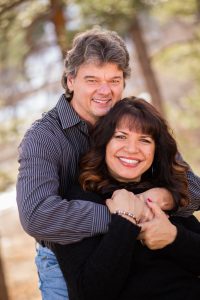 I grew up in a Christian home, in Southern California. My life spiraled downward after I was molested at the age of 14 by a trusted female adult who we knew from church. Something inside of me snapped; I walked away from God and threw myself into sex, drugs, and alcohol. The sexual side included daily binges with porn and masturbation, promiscuity, sex with prostitutes, an affair with a married mother of 3 kids, and visits to strip clubs.
By the time I was 23 my life was a train wreck. "Everything all the time" wasn't working.  I was depressed, in a failing relationship with a woman who was a non-believer, and the drug and alcohol binges weren't fun anymore. I felt God tugging at my heart and inviting me to return to Him, and started moving toward Him. I walked away from the drugs and alcohol and stopped dating girls who weren't Christians, but was still ensnared to porn and masturbation.
In 1988 I fell in love with Michelle, a young Christian woman, and we got married a year later. My porn habit followed me into marriage and wreaked havoc with it, and in 1991 I hit rock bottom after committing adultery with a prostitute. My attempts to break free from lust on my own had failed miserably; it was time to get help. I went to the church for help, but, experienced spiritual abuse, and then spent the next eight years looking for help outside of it.
In 1999, after years of seeing counselors, attending support groups, daily time in God's word and prayer, reading books, and being involved in ministry, I was still in bondage to lust. I gave up, and made God my last and only hope. If He didn't come through there was nothing left. In spite of spending years in church, reading my Bible, and praying, God showed me I'd never gone after Him. I'd sought women, ministry success, money, Bible knowledge, and other things, but not the Lord Himself. Many of my prayers were about asking Him to do something for me, instead of getting to know Him and enjoy His presence.
He started putting verses in front me about seeking Him with everything we've got:
But from there you will seek the Lord your God and you will find him, if you search after him with all your heart and with all your soul.
– Deuteronomy 4:29
You will seek me and find me, when you seek me with all your heart.
– Jeremiah 29:13:
I decided to go on an all-out adventure of chasing hard after God. Several weeks later, He radically changed my life by filling my heart with His love during a powerful encounter with Him.
You can read a detailed version of my story here, or in my first book The Road to Grace.
Because the church didn't talk about sex or porn, I assumed I was a freak… until I stumbled on to the surveys showing that 50% of Christian men were viewing porn.
How could so many Christians be struggling with a sin so devastating that it destroys marriages, yet no one is talking about it?
That was 1999. Today's surveys show that two-thirds of Christian men are viewing porn, and those are just the honest ones. Christian women are struggling with this too; women are the fastest growing segment when it comes to viewing pornography.
Wanting to help others, I started a grace-centered support group for men in 2000. The group grew. I discovered a love for writing, and in 2004 set up the Blazing Grace website.
Today Blazing Grace has grown into an international ministry. I offer counseling for individuals and couples, have written seven books, and speak in churches and other organizations in the US and Europe, including leading retreats and conferences. The Rogue Christian is my seventh book.
Over the years I've repeatedly seen the following from God's people:
Most Christians are isolated. "I have no one to talk to" are often the first words we hear from those who come to us for help at Blazing Grace. When I speak publicly I'll often ask the audience to raise their hands if they meet with another believer once a week for the purpose of encouragement, prayer, and support. Usually only 15-20% raise their hands.
Many don't have a prayer life; some don't even know how to pray.
Many don't have a vibrant love relationship with God.
They are stuck in their head. They know Bible verses and theology but their hearts are empty.
They are ill-equipped when it comes to spiritual warfare.
Many have been wounded or spiritually abused by the church.
They complain that their churches avoid the hard issues and are not equipping them. I hear "there must be more than this" often when it comes to church.
The Rogue Christian was born out of years of conversations with other believers, and my own questions. Why is it that the early church prayed often in the book of Acts and Jesus calls the church to be a house of prayer, yet we rarely pray in our weekend services? Why are so many mature believers who've been in church for decades isolated and struggling with issues like pornography? Why is it we're shown in Acts 2:42 that the early church was devoted to prayer, the apostles teaching (not one man), and fellowship, yet many of our churches don't look like this?
Why is it that society is free falling into a dark moral pit yet many pastors rarely touch these issues, let alone equip their people in how to overcome them?
I invite you go to in a journey with me. We rogues want more than status quo Christianity offers. We hunger for a vibrant love relationship with the Lord, and we want our lives to count for eternity. The Rogue Christian and the pages of this website provide biblical answers, and point you to the adventure of the life of the spiritual warrior and overcomer every believer is called to be.
If you're wondering about my marriage, Michelle and I healed and recovered from my adultery. We live in Colorado Springs with our four children.