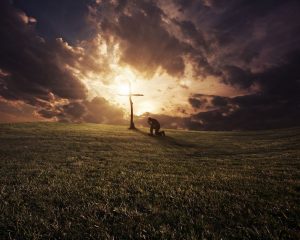 Several years ago, I was preparing to give the Easter morning message at church, and asked the Lord what He would like us to do. His reply: "Just thank Me."
"That's it?? Just thank you?" I thought. "No Easter message, no big celebration, no pull-out-all-the-stops extravaganza?"
"No, just thank me."
Then He reminded me of Psalm 50:22-23:
"Mark this, then, you who forget God,
lest I tear you apart, and there be none to deliver!
The one who offers thanksgiving as his sacrifice glorifies me;
to one who orders his way rightly
I will show the salvation of God!"
So that's what we did Easter morning. I spent 15 minutes sharing what God gave me to the church. We followed it with corporate prayer, thanking Him for His mercy and grace, then observed communion, which is another form of giving thanks. It must have been the quietest Easter in North America.
Leading up to this weekend, how many pastors will ask God what He wants them to do in their Easter service? What if His answer was outside the box of tradition, perhaps to spend the entire service in prayer? Would they do it? Or what if He wanted everyone confessing their sins and praying for each other in small groups?
To ask God these questions is to seek His heart; to hunger for what would bless and honor Him. We miss out on a treasure trove of blessings if we focus only on "doing church the way we always did it before," or our limiting perception of the way we think Easter should go.
This is the way of the Rogue Christian—we walk with Him in all of life. We don't trust the self and we refuse to lean on our experience and knowledge. There's nothing wrong with tradition, but we never assume that God is interested in or bound by what we've done in the past.
Unless the Lord builds the house,
those who build it labor in vain.
Unless the Lord watches over the city,
the watchman stays awake in vain.
Psalm 127:1
The last 15 months have exposed the church under the hood. Satan is rampaging and taking new territory daily, yet most churches have continued to do the same things they always have (albeit online) yet are somehow expecting things to improve. Every week Christians are in the news for the wrong reasons. Recently Ravi Zacharias was exposed, a pastor was shot and killed by his wife's lover, a man was arrested for extorting $150,000.00 from a church that he spent on pornography. Men are arrested in trusted church leadership positions every week for illegal pornography. Gallup just came out with a survey showing that for the first time since 1937, less than 50% of Americans have church affiliation. 20 years ago 70% of Americans claimed connection to a church; today it's 47%. Here at Blazing Grace we're busier than ever with new groups which tells you that the porn epidemic in the church is raging.
What might God's heart be toward the Easter celebrations of a church that has lost its way? We would need to ask Him… I can't help wondering if Amos 5:21-24 might be there:
"I hate, I despise your feasts,
and I take no delight in your solemn assemblies.
Even though you offer me your burnt offerings and grain offerings,
I will not accept them;
and the peace offerings of your fattened animals,
I will not look upon them.
Take away from me the noise of your songs;
to the melody of your harps I will not listen.
But let justice roll down like waters,
and righteousness like an ever-flowing stream."
Amos 5:21-24
I don't claim to know what the Lord wants every church to do. Every pastor needs to seek God's heart and ask those questions. Will they?
Will you?
This isn't just about church leadership. All of us need to ask the Lord to show us how He wants us to live our lives in a way that will bless Him. When is the last time you asked Him to show you how you can be a blessing to Him? Or are you floating, showing up at church because that's what good Christians are supposed to do, with little in the way of a love relationship with Him?
The good news is we can start where we are; the Throne Room of Grace is open. "Lord, I want to know You. Please make my life a blessing to You and show me the next step You want me to take."
Status quo Christianity has failed. It's time to go Rogue.
See https://theroguechristian.com/ if you're ready.
Picture: Kevin Carden