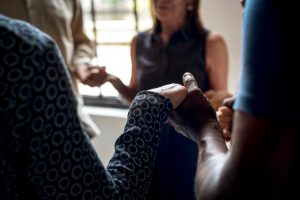 There can never be defeat if a man refuses to accept defeat. Wars are lost in the mind before they are lost on the ground. No nation was ever defeated until the people were willing to accept defeat. Many patients in hospitals die when they give up and accept defeat. I know several men who retired to build their dream homes. When they were finished, the men died. Man must have a battle in life if he is to live, but he will never be defeated if he will never give in to defeat.
General George S Patton, 4-star general during World War 2.
Never give in. Never give in. Never, never, never, never – in nothing great or small, large or petty – never give in, except to convictions of honor and good sense. Never yield to force. Never yield to the apparently overwhelming might of the enemy.
Sir Winston Churchill, Prime Minister of the UK; 1940-1945.
Recently I stumbled onto a sermon John MacArthur gave earlier this year where he said the following:
"How do you know when a nation passes the point where salvation is possible for a people? When you see a nation deep in sexual sin, pervasively affirming of homosexuality, and the insanity of a reprobate mind, where they make laws to criminalize righteousness and to legalize gross evil, you know that nation's under judgment. Our message to this nation is that it's too late for the nation, we're under judgment. But it's not too late for the elect. What's our message to this nation? You're under judgment; it's too late. Judgment has been unleashed. You can hear, but not understand. You can see, but not perceive," he said. But God has His people. So we warn, because we don't know who those people are and we also offer the grace of the Gospel. That's our calling."
MacArthur has a fantastic teaching ministry and I respect him. But from what I read in God's word I don't believe it's too late yet. Remember what God said to Jonah in Jonah 1…
Now the word of the Lord came to Jonah the son of Amittai, saying, "Arise, go to Nineveh, that great city, and call out against it, for their evil has come up before me."
By their peak at around 700 BC the Assyrians had built an empire that conquered much of the known world with wicked brutality, not unlike Nazi Germany. Entire cities were known to commit mass suicide rather than fall into their hands, which usually meant killing all the men and children and raping the women. Some prisoners were buried to their neck in the sand. A hole was punctured in the tongue and stretched out so the person couldn't swallow, and they were left to die in the desert. Some lost their sanity before death. The Ninevites who populated the Assyrian capital were as steeped in evil as we are today, if not more.
God sent Jonah to Nineveh. After a brief detour, Jonah walked the city as he proclaimed they had 40 days before the hammer of judgement fell and they were destroyed. Amazingly, the Ninevites, who had no churches, Bibles, John MacArthurs, Franklin Grahams, seminaries, or Christian ministries responded, and God spared them.
The hammer hasn't dropped in the US yet, but we may be days away from it unless we take the same two simple actions the Ninevites did.
Jonah began to go into the city, going a day's journey. And he called out, "Yet forty days, and Nineveh shall be overthrown!" And the people of Nineveh believed God. They called for a fast and put on sackcloth, from the greatest of them to the least of them. The word reached the king of Nineveh, and he arose from his throne, removed his robe, covered himself with sackcloth, and sat in ashes. And he issued a proclamation and published through Nineveh, "By the decree of the king and his nobles: Let neither man nor beast, herd nor flock, taste anything. Let them not feed or drink water, but let man and beast be covered with sackcloth, and let them call out mightily to God. Let everyone turn from his evil way and from the violence that is in his hands. Who knows? God may turn and relent and turn from his fierce anger, so that we may not perish." When God saw what they did, how they turned from their evil way, God relented of the disaster that he had said he would do to them, and he did not do it.
Jonah 3:4-10
Our problem is we have too many teachers and arm-chair critiques who can describe the problems but very few leaders and prophets. The Ninevites had both. While Jonah sparked the revival in Nineveh, it was their leader, the unrighteous king, who commanded the Assyrians to fast, don sackcloth, and cry out to God in Heaven-rending prayer.
Teachers tell their churches what the verses mean. Leaders cause believers to take the actions shown in Scripture.
Teachers preach expository sermons about prayer. Leaders put the people on their knees.
Teachers invite us to come as we are. Prophets tell us we can't stay there, the road is narrow, and there are few who will find it.
Teachers carefully, gently, talk about sin so as not to disturb anyone's comfort bubble. God-ordained prophets blast the sins of the church and couldn't care less whether anyone's feeling are hurt. Think John the Baptist, who Jesus called the greatest man who ever lived up to that point.
Leaders and God-sent prophets can spark revivals if the people respond. These prayer-powered warriors spend hours on their knees. They challenge the lukewarm, the hot and the cold alike to go all-out for God. Their heart breaks for those who are in bondage to sin or lost.
No matter what happens, they never give up. They know God is big enough to right the course of any ship and they refuse to stop fighting until their life is ended or their health stops them. Thankfully, the Ninevite King didn't have a seminary- educated American pastor telling him it was too late for them so that the Assyrians gave up. The hammer would have dropped and it would have been over.
I challenge every Christian, pastor, and leader to take the same actions the unchurched Ninevites did. During your weekend church services, set aside the sermons and worship band. Spend all your time with your people on their knees, confessing their sins to each other in small groups, and praying for each other. Do this for the next 40 days and keep doing it until we start seeing significant breakthroughs.
And when they had entered, they went up to the upper room, where they were staying, Peter and John and James and Andrew, Philip and Thomas, Bartholomew and Matthew, James the son of Alphaeus and Simon the Zealot and Judas the son of James. All these with one accord were devoting themselves to prayer, together with the women and Mary the mother of Jesus, and his brothers.
Acts 1:13-14
Fire up the prayer meetings through the week at church and in your homes. Set up prayer meetings in your homes, businesses, schools, and ministries. The early church spent 7 days in a row in prayer meetings, then they were anointed with power from heaven.
But you will receive power when the Holy Spirit has come upon you, and you will be my witnesses in Jerusalem and in all Judea and Samaria, and to the end of the earth.
Acts 1:8
It was after they received this power that Peter preached a brief message (you can read it in minutes in Acts 2) where Peter told the listeners twice that they had crucified and killed Jesus before encouraging them to turn from their sins:
Men of Israel, hear these words: Jesus of Nazareth, a man attested to you by God with mighty works and wonders and signs that God did through him in your midst, as you yourselves know— this Jesus, delivered up according to the definite plan and foreknowledge of God, you crucified and killed by the hands of lawless men. God raised him up, loosing the pangs of death, because it was not possible for him to be held by it.
Acts 2:22-24
Peter didn't say one word about the love of God during his message… and 3000 came to Christ. We have no power in our modern churches because we don't pray. I can't help wondering if many pastors really believe that prayer is as powerful as they say it is from the pulpit. They would surely have everyone on their knees every weekend during the dark times we find ourselves in if they did. Most churches barely spend 70 seconds in prayer on a Sunday.
Regardless of what the big Christian names say… never give up, ever. Every one of you who are Christians are born to be warriors and fighters, both men and women. We're designed to make a difference, to have our lives make an impact. Are you hungry for more? Many churches have put their people to sleep with coddling messages or lofty doctrine. We must challenge our people to be spiritual warriors and equip them for the battles ahead. We train people to be spiritual warriors by putting them on their knees, not Bible studies. To learn the power of prayer you must pray.
We have more than enough people telling us what's wrong. Let's focus on taking the action steps that will make a difference.
Feel free to participate in our weekly Wednesday Zoom prayer meeting if you want to get plugged into a prayer group now. Reply to this email to get involved.
I have fought the good fight, I have finished the race, I have kept the faith. Henceforth there is laid up for me the crown of righteousness, which the Lord, the righteous judge, will award to me on that day, and not only to me but also to all who have loved his appearing.
2 Timothy 4:7-8
Picture: rawpixel