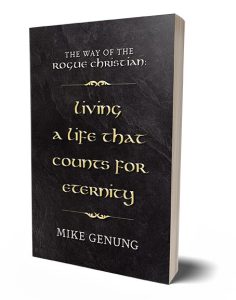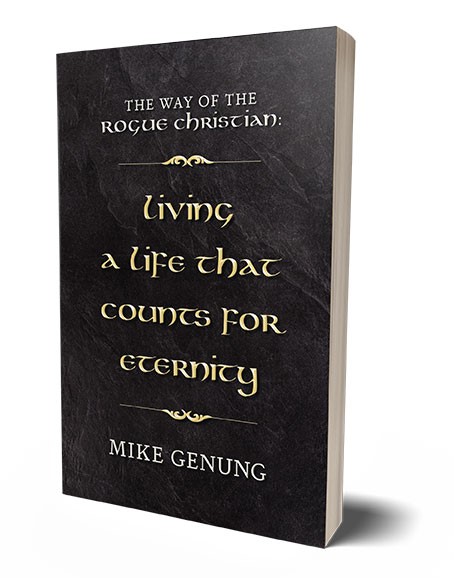 The kingdom of God does not consist in talk, but in power, that is, in works and practice. God loves the "doers of the word" in faith and love, and not the "mere hearers," who, like parrots, have learned to utter certain expressions with readiness.
—Martin Luther
What we live is what we believe. Everything else is just so much religious talk.
—Vance Havner
Little children, let us not love in word or talk but in deed and in truth.
—1 John 3:18
But be doers of the word, and not hearers only, deceiving yourselves.
—James 1:22
Many of you know Sandy England, who leads our wives ministry. Before I sent The Way of the Rogue to the editor I asked Sandy to read it. Four chapters in, Sandy said the book had a lot in there about how to live the Christian life. While I didn't set out to write a "how to" book, I realized she was right and that living a life that counts for eternity requires a life of consistent action.
The following is The Rogue's Creed, from chapter two from The Way of the Rogue; Living a Life that Counts for Eternity. The 7 pillars of the Rogue's Creed provide a Biblical foundation that every believer can build a life of eternal significance and impact on.
1.Rogue Christians go all out in their relationship with God. Seeking Him with all their heart is their way of life.
2. Rogues are prayer warriors.
3. Rogues are doers of God's word.
4. Rogue Christians meet with another believer once a week, every week, for the purpose of encouragement, accountability, support, and prayer.
5. We face our sins, hurts, and failures so we might heal and be free of them. We boast of our weaknesses to others so the power of Christ can shine through us.
6. Rogue churches are devoted to God's Word, fellowship, and prayer. We will expose the hard topics and equip our people to be overcomers. Our flocks will not be isolated, and we will pray during our weekend services.
7. We choose to make our lives count for eternity until the end. Retirement is not an option. Like Isaiah, our heart's cry is "Here I am, send me!"
The following is an excerpt from chapter 2:
"Amy Carmichael (1867–1951) was an Irish Christian missionary who served on the mission field of India for 55 years without taking a furlough. Despite suffering from neuralgia, a disease that would leave her bedridden for days, she left the United Kingdom for Asia in 1890 and ended up in Tamil Nadu on India's southern coast. Forced prostitution of young girls was widespread there; demonic oppression and idol worship were out in the open.
Amy described her battles to win the lost, save young women from sexual slavery, and endure the oppression she faced in her book Things As They Are, published in 1903. Most of the stories she shared in her book ended in tragedy, with the people she tried to reach being drugged into a stupor, beaten, or kidnapped. She also wrote that the Christian press in England wanted her to focus on stories with happy endings (sound familiar?). She had the following cutting words about Christians who were content to watch from the sidelines:
What is God's definition of that golden word "success"? He looks at . . . many a forgotten place in many a great land. And then He looks at us, and I wonder what He thinks. Ragland, Fellow of Corpus Christi College, Cambridge, after years of brain-burying waste, wrote that He was teaching him that "of all plans of securing success the most certain is Christ's own, becoming a corn of wheat, falling into the ground and dying."
As Amy wrote, there are many who spend years burying their brains in the Bible yet have little in the way of fruit to show for their lives. I'm not degrading studying God's Word; His Word is alive and powerful, and we need to soak it in daily (Hebrews 4:12). If Bible knowledge doesn't reach the heart and spark action, Scripture becomes little more than a school book to be dissected and analyzed. It's when we do what God's Word says that the Christian life comes alive and becomes a powerful adventure.
Even the outside world knows that talk without action is useless. In May 2013, Eric Snowden, a former employee of the Central Intelligence Agency (CIA) and the National Security Agency (NSA), shocked the world when he exposed thousands of classified NSA documents to several journalists in Hong Kong. Glenn Greenwald was one of those journalists. In one of his early meetings with Snowden, Greenwald pressed Snowden on his motives for putting his career, freedom, relationship with his girlfriend, and family on the line, knowing that the US government would go after him and his loved ones. Snowden lived in Hawaii with his girlfriend and made good money before he left for Hong Kong. All of that would vanish, and he would live on the run once he made his disclosure. Here's Eric's reply:
The true measurement of a person's worth isn't what they say they believe in, but what they do in defense of those beliefs. If you're not acting on your beliefs, then they probably aren't real."
We come across a lot of believers who know the Bible but aren't doing what it says. Living the Creed requires ongoing action. Going all out in our relationship with God takes a significant investment of time, alone, in silence, just as Jesus did:
And rising very early in the morning, while it was still dark, he departed and went out to a desolate place, and there he prayed.
Mark 1:35
In these days he went out to the mountain to pray, and all night he continued in prayer to God.
Luke 6:12
Being a prayer warrior is our way of life.
It's amazing to me how many Christians we meet who are isolated and rarely if every meet with another believer, let alone confess their sins and struggles on an ongoing basis. Yet James 5:16 is a command, and Proverbs 18:1 rebukes isolated believers. Boasting of our weaknesses? How often do you see that on social media? Churches everywhere teach on Acts 2:42 but are not devoted to prayer or fellowship. Show me a praying a church and I'll show you a spiritual powerhouse.
Living the Creed is difficult, and will be opposed, but I would rather live in the midst of battle, fighting for what counts for eternity, than rotting in a bubble of comfort or entertainment. I hope to be broken bread and poured out wine until the day of my last breath; retirement isn't an option.
I know there are many of you who yearn for the same. Take the action steps necessary to build your life on the Creed. You'll never regret it.
You can purchase The Way of the Rogue; Living a Life that Counts for Eternity at the store at www.theroguechristian.com. The direct link to the store is https://theroguechristian.com/shop/. Quantity discounts are available as well as an e-book.