We've all done it. We go on a vacation, expecting to get rejuvenated at the end. We kick it into gear, running from place to place in an attempt to see it all, do it all. Our smartphone is always close at hand. Can't let an email or text go more than an hour without replying to it, right? Gotta keep our social media feed updated so we stay connected.
By the time we get home we're just as tired as when we left, maybe more so. There's little difference between our "vacation" and the rat race; it was a change of place at the same pace.
Some take a vacation from God while they're away. Who needs a prayer life when you're having fun doing all those things that satisfy the soul… er… they do satisfy… right?
Last week I spent several days in Southern California with my family. I love early mornings at the beach. I got up at 6 in the mornings and sat in the sand. I had a lot of wide-open space to myself, as this picture shows: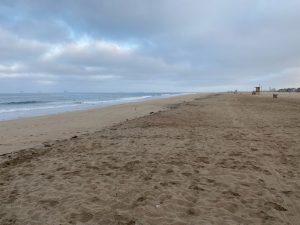 I enjoyed the first hour and a half of every day alone at the beach with God. There were moments of worship where I raised my hands to the sky in praise, times of quiet reflection, plenty of prayer, and soaking in His word. God restores the soul when we rest with Him in nature. The roar of the surf had a calming affect that helped me to release everything back to Him.
The Lord is my shepherd; I shall not want.
He makes me lie down in green pastures.
He leads me beside still waters.
He restores my soul.
Psalm 23:1-3
During those early mornings, God reminded me that I could rest and receive love from Him all over again. I had been going hard for awhile and needed that; it's easy to get so caught up in fighting the battles that we forget to enjoy His Presence and receive from Him.
We need to unplug, have fun, take our mind off of the rat race, but you'll never rest and heal if you're running around and won't slow down. Fun can't fill the emptiness within, nor can it heal our core. We run from activity to activity, store to store, often buying souvenirs that will get tossed in the corner because that's all many of us know. We haven't been taught that we need rest of soul with God far more than recreation. Ever notice when you binge on something that there's a lingering feeling of emptiness afterward? Vacations can be that way if we don't take the time to rest with the Lord.
I don't want to be misunderstood. Have fun and enjoy your time off, but don't set God aside during your time away. Walk with Him, rest with Him, enjoy Him, and worship Him.
This is the way of the rogue Christian. We invite God into every part of our lives.