The fight to which we have been called is not an easy fight. We are touching the very center of the devil's power and kingdom, and he hates us intensely and fights hard against us. We have no chance at all of winning in this fight unless we are disciplined soldiers, utterly out-and-out and uncompromising, and men and women of prayer.
So first, give much time to quietness. We have to get our help for the most part direct from our God. We must each one of us learn to walk with God alone and feed on His word so as to be nourished. Don't only read and pray; listen. And don't evade the slightest whisper of guidance that comes. God make you very sensitive, and very obedient.
Fill up the crevices of time with the things that matter most. This will cost something, but it is worth it. "Seek ye My face. My heart said unto Thee, Thy face, Lord, will I seek." No one is of much use who does not truly want to learn what it means to pray and listen and choose the life that is hid with Christ in God.
-Amy Carmichael, 1867-1951, missionary to India
However, the report went around concerning Jesus all the more; and great multitudes came together to hear, and to be healed by Him of their infirmities. So He Himself often withdrew into the wilderness and prayed.
Luke 5:15-16
Once every two to three months, I go away alone to the desert here in Arizona for several days alone with God. I left for a desert adventure last Thursday and returned on Saturday.
Friday morning, we had an issue blow up in the office that demanded my immediate attention. I wasn't surprised; things like that happen often when I go away alone. Our spiritual adversary is aroused when we choose to enter into an extended time of rest and fervent prayer with God.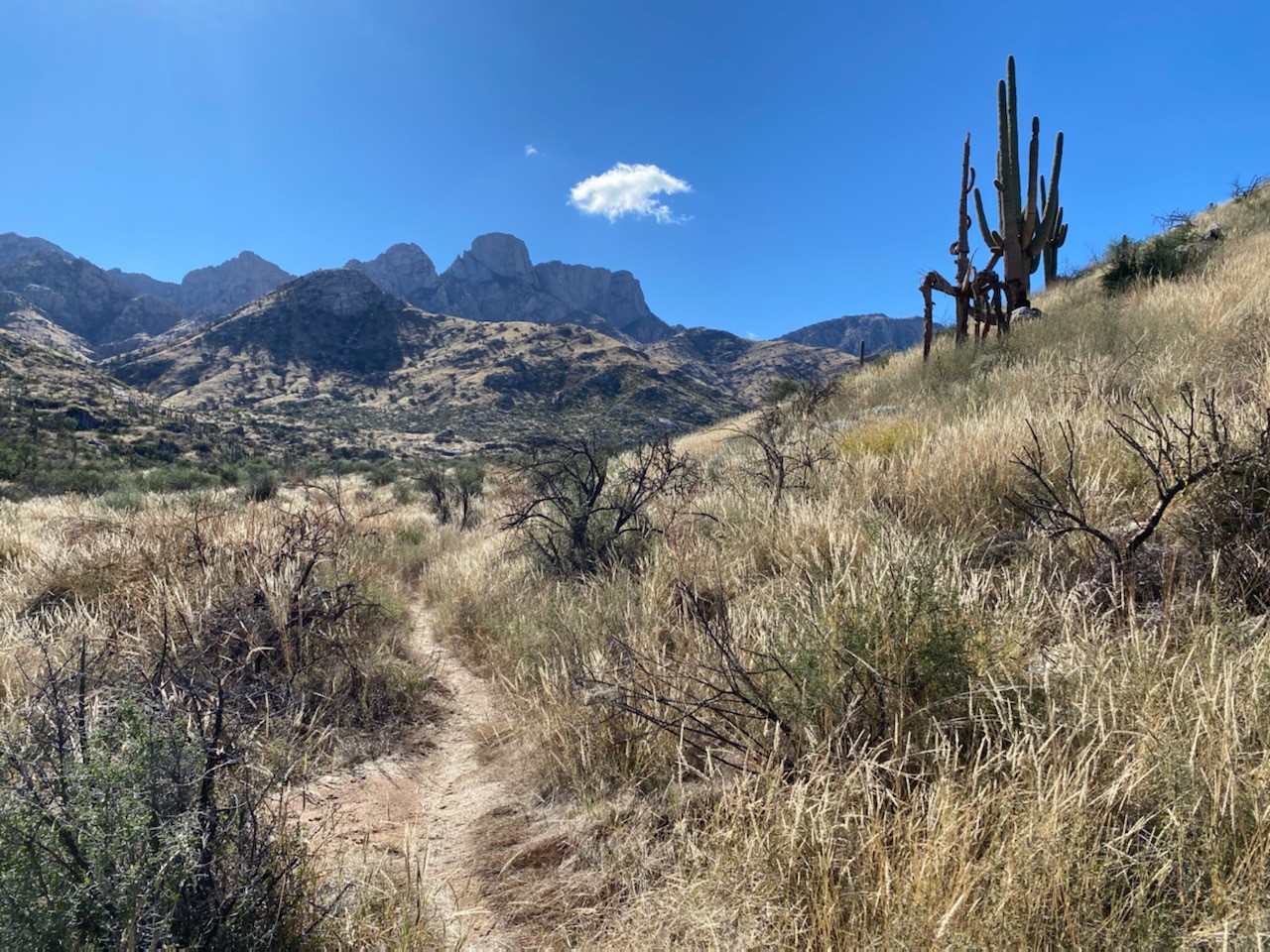 To venture alone in a desolate wilderness as Jesus did is to strip self of all the artificial props and distractions that keep us from facing the one person we're often most uncomfortable facing – ourselves. In silence all of what we are, and have been avoiding, bubbles to the surface. One woman wrote the following in response to an article I wrote on how we squirm when faced with long periods of silence:
"This message left me weeping. My heart has been so burdened over the very thing you've said here. So many people are frantically trying to manipulate things to maintain a normal life; channel surfing, looking for old sporting events, and so much more. The stories I've heard about people during the pandemic have brought to light the very thing you've mentioned here. Most people have a hard time being alone with themselves. Maybe God has some things He would like to share with each of us."
Since last summer I've had plenty of spiritual warfare along with multiple events and trips. As I walked the desert floor Friday morning, I realized I had been so immersed in the events of the past several months that I was overwound by it all, and a little weary. I needed to come down and let it all go; get it out of my system and let my soul breathe.
Settling into silence takes time, and I struggled at first… then God showed up and I heard these words:
Come to Me, all you who labor and are heavy laden, and I will give you rest.
Matthew 11:28
"I will give you rest"… Jesus gives rest of soul. I don't have to conjure it up. Rest of soul isn't the absence of activity, but when we come to a place of complete peace, absent of all anxiety or care. Deep rest of soul comes from God, who alone can touch the core of the heart.
There remains therefore a rest for the people of God. For he who has entered His rest has himself also ceased from his works as God did from His.
Hebrews 4:9-10
I started praying and releasing everything to God, work, family, other concerns, the swirling insanity of the world. In a moment, Jesus granted me His rest. There, in a desolate wasteland, all feelings of being overwound vanished; there was deep peace and the blessing of His wonderful presence.
Lord, my heart is not haughty,
Nor my eyes lofty.
Neither do I concern myself with great matters,
Nor with things too profound for me.
Surely I have calmed and quieted my soul,
Like a weaned child with his mother;
Like a weaned child is my soul within me.
Psalm 131:1-2
When we rest with God and allow Him complete, unhindered access to our heart, He may come and perform heart surgery. This is what happened the next morning. The Lord exposed areas deep within that needed mending and restoration, mainly that were connected to when I had been molested as a youth. I've spent plenty of time resolving those issues in the past, but with something as traumatic as sexual abuse there are often deeper, hidden chambers of the heart that need His touch of love.
As God walked me though the healing process, the enemy attacked again by hurling thoughts such as "Is this real?", "Is this God?", "Am I crazy?" Yet I knew that what God was walking me through was true. The Holy Spirit broke through the chaff with Isaiah 30:15:
For thus says the Lord God, the Holy One of Israel: "In returning and rest you shall be saved; In quietness and confidence shall be your strength."
Quiet, confidence, rest, trust. I'm back to resting with Him in silence, even while He's healing and I'm getting hit.
The raw silence of the desert provides a setting for powerful encounters with God. We're more powerful than we realize when we're immersed in prayer and seeking God, which is why the enemy comes on strong. We can hear God clearly in silence, especially when we're not checking our smartphone every five minutes or checking out with entertainment. In a desolate setting where all we have is God, the Holy Spirit has ample room to convict, heal, encourage, and kindle His white-hot fire of passion and love.
As we saw in Luke 5:15-16, Jesus went away alone often into the wilderness for extended time to pray and seek His Father—especially when He was busy. Remember, Jesus kicked off His ministry with 40 days alone in the desert.
We modern Christians tend to hit the gas and avoid being alone, then wonder why we're constantly exhausted… in bondage to sin… or wasting our life on useless media and pleasure. Hard to have a powerful prayer life in that condition.
The Bible has black and white commands, especially in regard to sin. It also offers invitations to know God more deeply, encounter the joy of His presence, hear His voice, and experience the deep healing that will only come from extended time alone with Him. God is a gentleman; He doesn't force Himself on anyone. He never chased the lukewarm, in fact He usually truth-bombed them and walked away. We can have as much or as little of God as we want. Many churchgoers have barely tasted the treasure of an intimate relationship with the Creator of the Universe.
Jesus encountered Satan in the desert. I tend to get hit with warfare when I go on a desert trek; the fierce opposition from the enemy reveals how crucial rest and extended times of prayer alone with God is. If you decide to go against the grain of status quo Christianity and go hard after God, be prepared for war. That's not a bad thing because you'll toughen up from more experience in the battlefield.
In the dark days we live in, stopping and resting with God isn't a luxury, but a necessity. It always has been—for those who want to make their lives count for eternity and engage the battle as Amy Carmichael did. The problem is that our modern churches have stopped short by turning the Bible into a textbook to be studied instead of a guidebook to be lived. (When is the last time you heard a pastor talk about going off alone in the desert for two days?) Your desert may be the mountains, forests, woodlands, or the coast. When we lived in Colorado I used to go away alone to the mountains. No matter your wilderness, Jesus' invitation still stands for every believer:
"Come away by yourselves to a desolate place and rest a while."
Mark 6:31