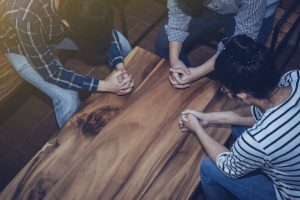 In the past year, the church has been marginalized, divided, and trampled on, not unlike the French in World War 2 when the Germans blitzed France and took it down in several weeks. The events of recent weeks feel like a setup for a major offensive by our spiritual enemy to break the back of this country. He's been effective, as the division and strife in and outside of the church are getting progressively worse. We're destroying ourselves.
I'm tired of watching us get our butts kicked as the enemy takes more ground. Here are some action steps I challenge you to take to make a difference. I'm assuming you know that prayer is our most powerful weapon.
Commit to praying an hour a day for the church and our country.
Hold a weekly or biweekly prayer meeting in your home.
If you have Christian co-workers, pray with them daily, if possible. It doesn't have to be long. If you're in school, pray with your schoolmates as often as possible.
Set aside all posts on current events on social media. This is just adding to the toxic environment and sparking more division and strife. We have plenty of self-appointed "watchmen on the wall" trumpeting every new fall into depravity. We get it, the country is in trouble. Judgement without hope, leadership, or giving people the action steps to take to make a difference leads to hopelessness, despair, hard hearts, and even stumbling. We don't need that right now. We're all sitting on a powder keg and need to put out the fires, not pour gasoline on them. You're not going to provoke people to change by adding to the toxic environment. We need leaders who will move God's people toward healing, restoration, unity (without compromising the truth), and equipping them to engage the battle where God has placed them. If you were in a war zone and were a platoon leader, would you tell your squad repeatedly about the battles that had been lost, or would you lead them in finding a way to win? We learn from our mistakes but we don't dwell on them, nor do we obsess about them.
Respectfully, go to your church leaders and ask them to consider having the congregation spend significant time every weekend service in prayer. I write about this in detail in my book The Rogue Christian. The book can help you communicate the Biblical imperatives for our churches to be houses of prayer.
If you've been in bondage to sin, get help. Don't sit there and do nothing and expect to miraculously be healed. Get plugged into a safe group of other believers where you can share your struggles. Wounded warriors need to heal before engaging the battle.
Attend our Rogue Christian conference February 20 in Jamesport, MO. There is no cost to attend, and we will equip you for the days ahead. See theroguechristian.com for more information.
Ask God to convict you of your sin, and, with His power, crucify your flesh daily. Prayer and repentance fuel spiritual awakening.
After reading this post, go and make a difference. Live your life for the things that count for eternity. Avoid rabbit trails that are a waste of time. Everything is being shaken; your relationship with God is the most critical part of life.
Picture: freedomstudio