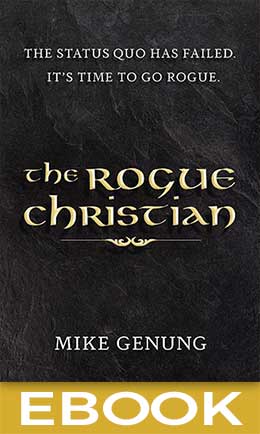 Viewing Format: Digital eBook
Number of Pages: 186
Publisher: Blazing Grace Publishing
Upon purchase the eBook will be emailed directly to you within 24 hours.
---
Table of Contents:
Part I: The Status Quo has Failed

The Onslaught of the Orcs
The Sedating Effect of "Positive and Encouraging"
The Problem with Verse-by-Verse Teaching
Why We've Lost Our Salt

Part II: The Rogue Christian

Do You Know Him?
Perspectives
The Power of Silence
Can You Drink the Cup?
Living in the Flow of Grace
The Way of the Rogue
How to Create a Safe Church
Invasion
Reviews of The Rogue Christian – eBook
Your writing is so good–inspirational, foundational, and from the depths of your (and God's) heart. I'm sharing your book with my husband, and we're nodding and agreeing and being generally amazed at how the book reflects so much of what we've been talking about in the last few years. I love your book, and I think it hits the bullseye on so many levels. Your view of the modern-day church is something we all definitely need to hear. Almost every Sunday in our church we come away a bit empty, still longing for more, for Jesus, for God to be exalted and lifted higher.